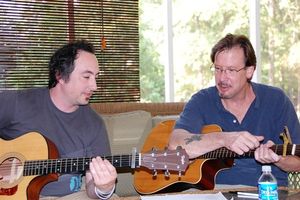 Mike Shannon: Songwriter, Producer, Vocals, Guitars, Keyboard & percussion
Founder of 4th Ward in 2000 and Big Bus Dream in 2006, Shannon is a product of CBGB's post-punk scene. 4th Ward's self-titled release debuted at #20 on CMJ's Top 200 National Charts. Big Bus Dream's debut album (2006) and The Jesters of Xmas Town (2008) topped several European music charts, and were featured in MTV's Pimp My Ride.
Shannon's 2017 solo album, My Dream My Fantasy, encompasses 18 years of music - from 4th Ward and Big Bus Dream - selected never released, reworked, and remastered tracks. Hailed as "one of the top 3 albums of the year" by Celebrity Cafe. 
2021 saw the critically acclaimed Giants In My Mind.
Hear Me Roar just dropped, on Oct 28, 2022
Chick Tsikouras: Guitar & Songwriter (on tunes notated)
Tsikouras joined Shannon after the initial 4th Ward release in 2000, and the 2006 and 2008 Big Bus Dream releases. His diverse guitar stylings, developed during stints with Pat Metheny and The Mamas and the Papas, have fueled the music of Big Bus Dream.  
Max Kerner: Co-Producer    Hear Me Roar